C-HR
With its beautifully sculptured crossover design, responsive and engaging hybrid drive, the all-new Toyota C-HR offers complete harmony in active lives.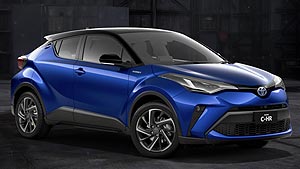 Combining the sleek profile of a coupe and strong lower body of an SUV, the C-HR's diamond facetted exterior gives the illusion of movement even at a standstill, while the driver-focused cockpit puts you in command of the road.
Created by engineers with the racing spirit in their veins, the C-HR is highly responsive, with an advanced turbo engine and Dynamic Torque Control delivering excellent handling and a thrilling drive.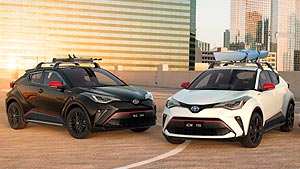 More is more, so every C-HR comes standard with a full line-up of technology to help keep you safe, informed and entertained. Active Cruise Control[N16], Satellite Navigation[N1] with 3D graphics, dual zone air-con – the list goes on.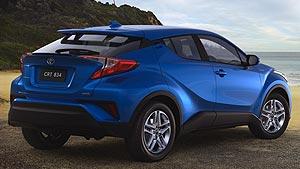 C‐HR's multitude of safety features – from emergency braking[B4] and forward collision warning[B4] to a blind spot monitor[B4] and lane departure alert[B4] – all work together to help keep you safe in a variety of conditions and unexpected situations.
[B4] Reversing Camera/Park Assist/Sonar Parking/Driver Fatigue Monitor/Blind Spot Monitor is a driver assist device only and should not be used as a substitute for safe driving practices. The area into which the vehicle is driven must be visually monitored by the driver.
[N1] Current navigation mapping database encompasses major capital and primary national road networks as well as offering some coverage of regional areas.
[N16] Cruise Control is a driver assist technology and should not be used as a substitute for safe driving practices. Driver should continue to monitor the road.