LandCruiser 200
King off the road.®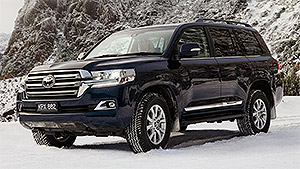 We designed the LandCruiser 200 to be Earth's greatest 4WD – prestigious, adventurous and trust-worthy. It has all the grunt and muscle you'd expect from the legendary king of Australia's off-roads, yet it's also an incredibly comfortable car on the tarmac.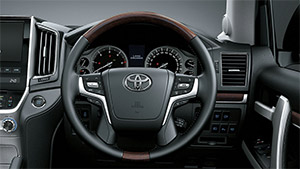 To make sure you don't lose your way along the open road, the Sahara, GXL and VX models are all equipped with Satellite Navigation [N1]. Bluetooth®[B5] technology has been integrated into the audio system. You can make and receive calls while driving, allowing your focus to remain on the road.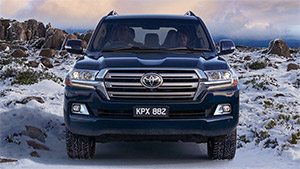 In terms of 4WD car performance, the LandCruiser 200 sets benchmarks in off-road driving. Cutting edge technology, clever innovations and technologically advanced design features all combine to produce a genuinely unique four wheel drive experience.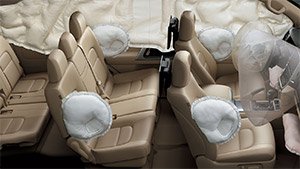 The LandCruiser 200 has a rust-resistant, high strength, high rigidity framework to help protect everyone travelling inside and an external body structure that helps absorb impact to minimise damage when involved in a collision. A system of SRS airbags also helps provide protection for everyone on the inside.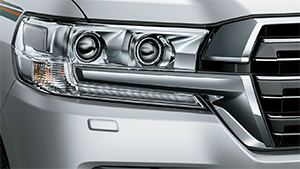 The headlamps are based on a barrelled dual-lamp (low/high beam) style with a 3D design that is set up high on the vehicle to help prevent damage to the front lamps. LandCruiser 200 wheels are precision engineered, fitted and tested to some of the highest levels of safety and durability.
[B5] The Bluetooth™ word mark is owned by The Bluetooth SIG, Inc. Not all devices will be compatible and functionality will vary depending on the device.
[T4] New Vehicle Warranty expires 3 years from the date of first delivery or 100,000km, whichever occurs first. Refer to the warranty conditions. The New Vehicle Warranty does not limit and may not necessarily exceed your rights under the Competition and Consumer Act 2010.
[T1] Maximum payable for standard scheduled logbook servicing (normal operating conditions) until first of three years or 60,000km, whichever occurs first (up to the first six services). Excludes Government & Rental vehicles. Contact your Toyota Dealer or go to toyota.com.au/advantage for other exclusions, eligibility and full details.
[T7] Terms and condition, fees and charges apply. Toyota Access Guaranteed Future Value products are available to approved customers of Toyota Finance a division of Toyota Finance Australia Limited ABN 48 002 435 181, AFSL and Australian Credit Licence 392536.
[T9] Terms and conditions apply. Before making a decision about this product, please read the current Product Disclosure Statement (PDS) available from participating Toyota Dealers, via our website toyotainsurance.com.au or by calling 137 200. Toyota Insurance is issued by Toyota Finance Australia Limited ABN 48 002 435 181, AFSL and Australian Credit Licence 392536. The insurer is Aioi Nissay Dowa Insurance Company Australia Pty Ltd ABN 11 132 524 282 AFSL Number 443540. Our insurance policies do not change or take away your rights under the Australian Consumer Law. Your right to claim under our policies for the benefits covered are in addition to other rights and remedies you have under the law in relation to your vehicle. However, you can choose to make a claim under any of our policies even if you have rights under the law.