Fortuner
Fortuner. Bred for adventure.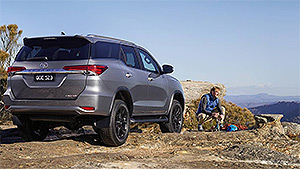 Ready when you're ready for action and adventure. There's no mistaking the purposely sharp, sculptured exterior lines of Fortuner. Up front slender headlamps, with thick chrome surrounds on the Crusade and GXL, combine with a beefy three dimensional trapezoid bumper to create a bold and elegant form.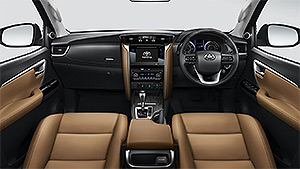 A pedigree that delivers rugged style with everything in place. Whether in town or the country, Fortuner is ready to move any family in an interior that's been designed following the latest in ergonomic development, placing everything just where it should be and delivering plenty of usable space.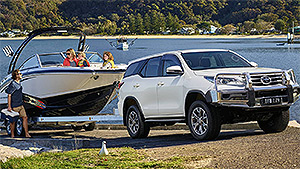 A pedigree of highly refined muscle and power. Developed from scratch by Toyota to match Australian driving conditions, Fortuner's 2.8L 4 cylinder Turbo-diesel engine, gives you the grunt to go where you choose with unprecedented reliability and response.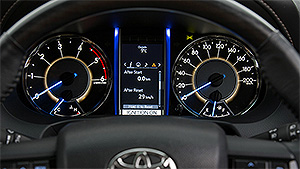 Fortuner is more than just a hard shell, it's also packed with the very latest technology and smart thinking from Toyota. From the outside in and from the bottom up, you'll find plenty of intelligent features that not only make the drive highly enjoyable, but also a more refined way to get out there and explore.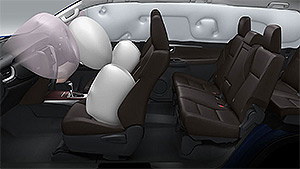 Fortuner is seriously tough all round, but it's never soft on safety. When you're travelling with a cargo as precious as your family, you'll have the reassuring confidence of knowing Fortuner's been designed with safety as a top priority and awarded the highest ANCAP 5 Star Safety Rating.
[T1] Maximum payable for standard scheduled servicing (normal operating conditions). Excludes Government, Rental, Fleet Not for Profit and Toyota Employee Family Vehicle Purchase vehicles. Contact your Toyota Dealer for other exclusions and eligibility.
[T4] New Vehicle Warranty expires 3 years from the date of first delivery or 100,000 km, whichever occurs first. Refer to the warranty conditions. The New Vehicle Warranty does not limit and may not necessarily exceed your rights under the Competition and Consumer Act 2010.
[T7] Terms and condition, fees and charges apply. Toyota Access Guaranteed Future Value products are available to approved customers of Toyota Finance a division of Toyota Finance Australia Limited ABN 48 002 435 181, AFSL and Australian Credit Licence 392536.
[T9] Terms and conditions apply. Before making a decision about this product, please read the current Product Disclosure Statement (PDS) available from participating Toyota Dealers, via our website toyotainsurance.com.au or by calling 137 200. Toyota Insurance is issued by Toyota Finance Australia Limited ABN 48 002 435 181, AFSL and Australian Credit Licence 392536. The insurer is Aioi Nissay Dowa Insurance Company Australia Pty Ltd ABN 11 132 524 282 AFSL Number 443540. Our insurance policies do not change or take away your rights under the Australian Consumer Law. Your right to claim under our policies for the benefits covered are in addition to other rights and remedies you have under the law in relation to your vehicle. However, you can choose to make a claim under any of our policies even if you have rights under the law.